Getting Started with tangible modeling tools plus T4 Editor FREE EDITION

Welcome to tangible modeling tools. With tangible modeling tools you can directly create Software Diagrams. With the T4 Editor you can author code-generators that generate from models, xml, databases or any other source. Together they are a very powerful toolset: Write less, achieve more.


How to start

After installation start Microsoft Visual Studio open or create a new project. Right click the project in the solution explorer and select the menu entry "add new item". Then select one of the tangible modeling templates highlighted below.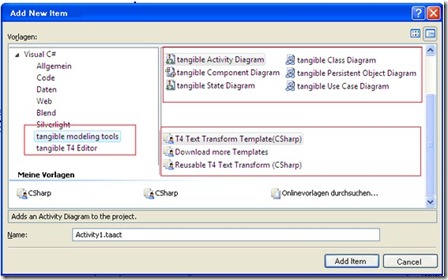 A Tour around T4 Editor
"How Do I"-Videos?
More how do I videos are found here .